Winter weddings are magical; with twinkling lights, log fires and a soft dreamy outdoors perfect for romantic photos. Beautiful bride Amy had a sparkling winter wedding at The Albrighton Hall Hotel, Shrewsbury. An elegant 18th Century Country Manor house set in 15 acres of parkland; her wedding was beautifully captured by JOL Photography.
JOL Photography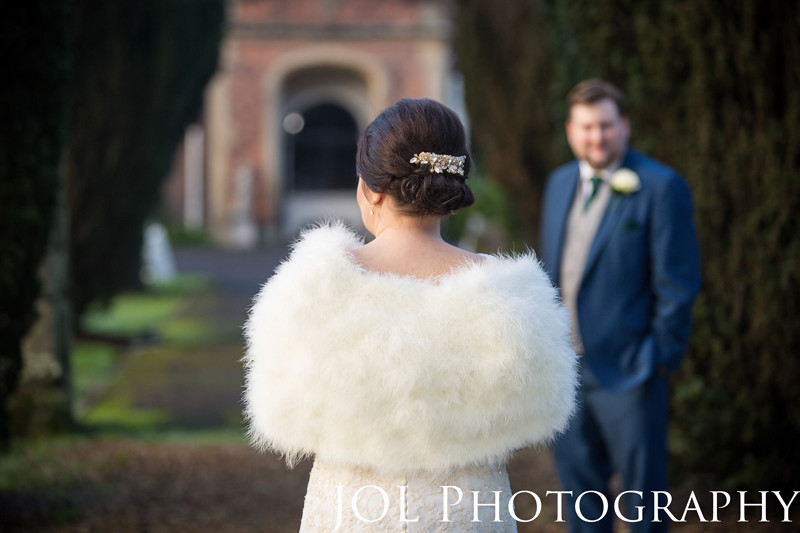 Amy's beautiful wedding dress from Heavenly Brides and Belles in Shrewsbury had a feature train of chiffon overlay with a trailing lace embellishment.
She added a luxurious faux fur shrug to keep her warm which gave her dress an elegant 'Downtonesque' feel.


Amy's bridal gown had exquisite pale gold detailing. She was looking for gold wedding accessories that linked in with this and added warmth to her special day look.
She wore her dark hair swept away from her face in a low bun worn in the nape of her neck. She had decided not to wear a veil leaving the back of her beautiful wedding dress on view.


Cordelia Bridal Comb
Amy fell in love with the Cordelia Comb. This statement gold coloured bridal headpiece tucked in above her low bun; the shape of the design mirroring the curves of her dress train.
The golden diamante sprays trailed downwards and perfectly echoed the lace and pale gold detailing on her wedding dress.
Cordelia Bridal Comb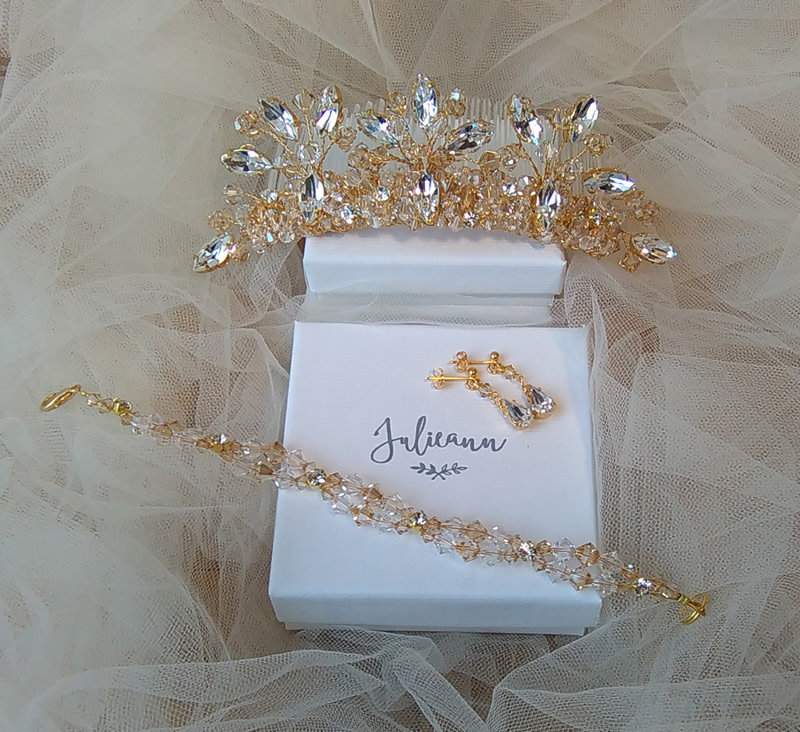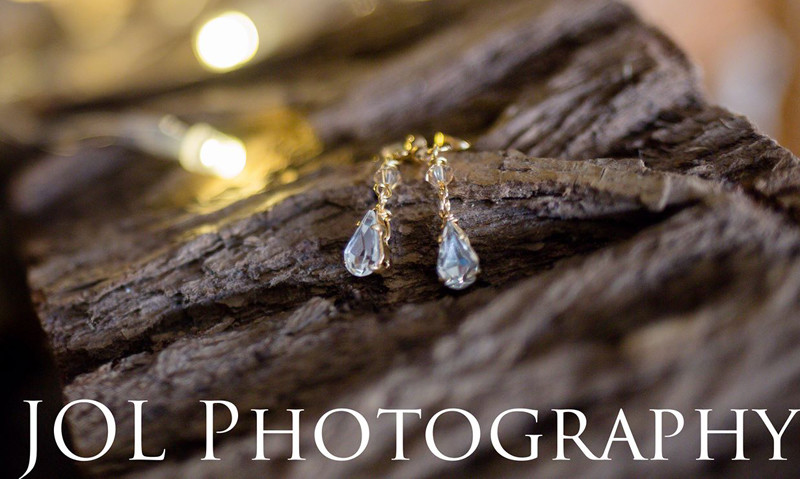 Gold Bridal Jewellery
I created a bespoke double stranded clear and champagne coloured Swarovski crystal bracelet for Amy with a sprinkling of dainty golden diamante.
Amy Bridal Earrings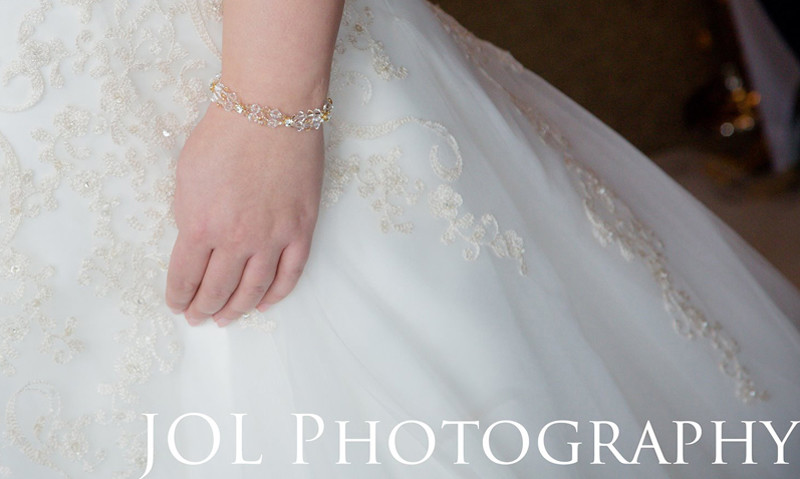 To go with this I also designed a pair of delicate diamante drop earrings based on the Cordelia Comb components. Much admired on social media I added these Amy Earrings to my wedding jewellery collection named after her.


Bridesmaids jewellery
Amy treated her bridesmaids to Anya Bracelets and Mia Pins as their thank you gifts from her.
These linked in perfectly and were much admired on the day; jewellery they will treasure and wear long after her wedding.
Anya Bracelet
Mia Pins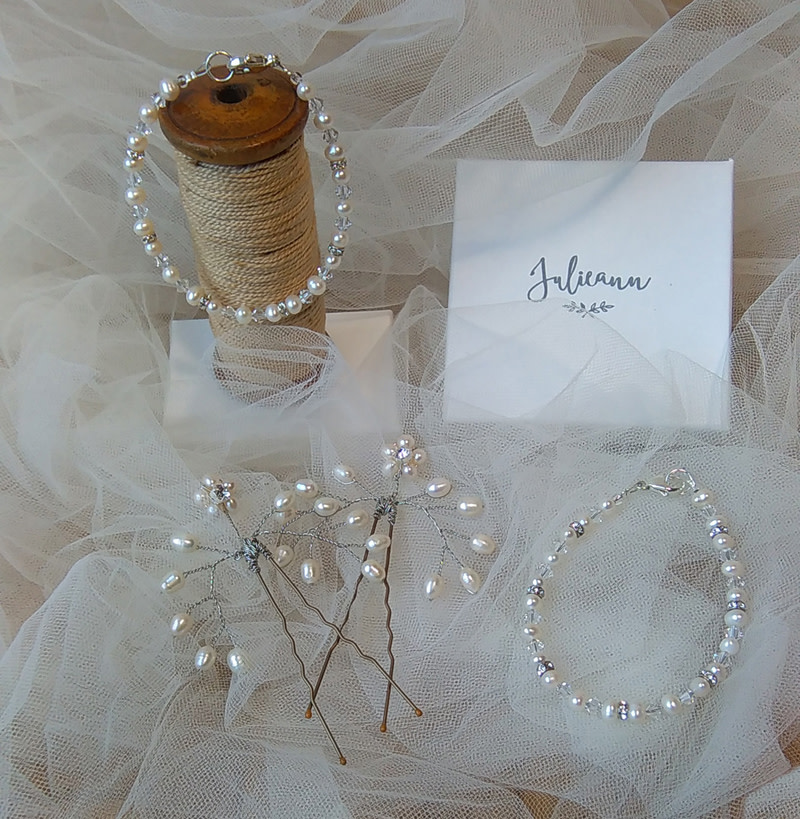 Amy was great fun to work with and I'd like to thank her for sharing her beautiful winter wedding with us.
Other wedding suppliers:
Hair: Emily at Salon Blue
Make-up: Natalie Ravenscroft
©Julieann Bird 24.09.17